ADAE'S Ultimate Holiday Gift Guide | Jewelry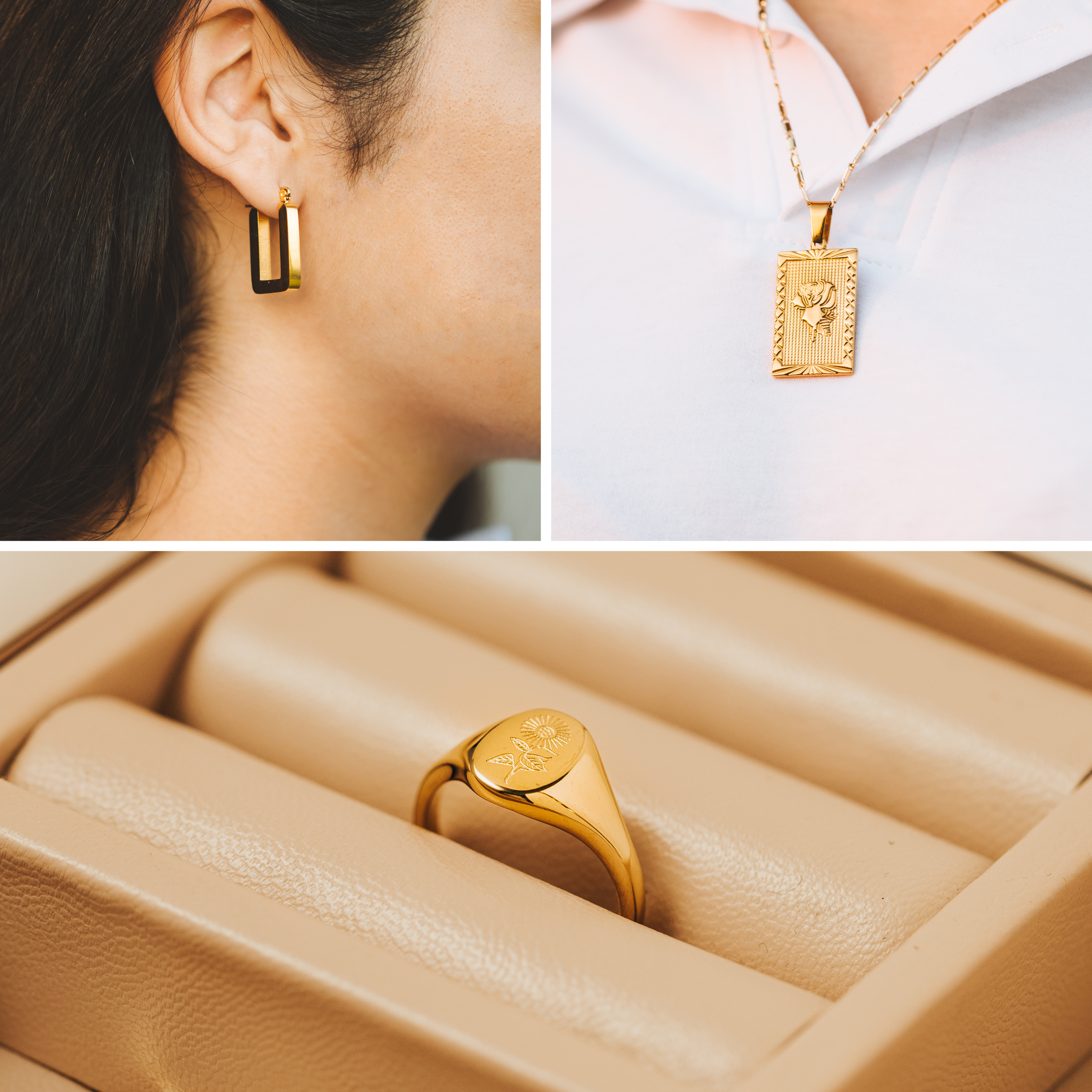 Looking to gift priceless pieces of jewelry but not sure what to get? Look no further because we got you covered.
We package all of our jewelry in beautiful pouches, an elegant box and include a handwritten, personalized gift card (make sure to include your note at check out)! 
1. The Sophisticated Look 
Our best-selling
Noor Necklace
 and our sterling silver dainty
Emily Pearl Earrings
are perfect together for a sophisticated, classy look. These pieces help pull together any outfit without going overboard. 
Note: Our Emily Earrings are also available in silver. 
2. The Festive Look
These
Priya Pearl Earrings
 are a perfect gift on their own. Available in both royal blue and emerald green, these carefully crafted beaded, sterling silver earrings bring colour, texture and elegance to ones ears. 
3. The 'Je Ne Sais Quoi' Look
Our
Taylor Hoops
 and our
Valentina Ring
 are the perfect croissant duo. Together they give a certain 'je ne sais qoui' appeal and radiate Paris Fashion Week when worn.
4. The Street Style Look 
5. The Edgy Look 
6. The Statement Look 
For the person who wants her jewelry to make a true statement, you can never go wrong gifting the
Zoey Earrings
, the
Amanda Necklace
, and the
Nikita Ring
. These golden accessories will surely elevate any wardrobe.
7. The Silver Look 
8. The Simple Look 
Simplicity at its finest. These three pieces together are simple but also showstoppers!
The Ebony Ring
,
Yasmeen Earrings
and the
Safa Studs
are three pieces that go so well both together or alone. Our Yasmeen Earrings also come in red, white, black and green.
9. The Already Perfect Gift Set 
Not sure what to get and quickly want to order a set? We already have our
Gift Set
crafted for you! This set includes the Hiba Hoops, the Oana Link Chain and a choice of the Reni or Rushane Ring that makes up the perfect three piece set.