3 Ways to Elevate Any Outfit with a Gold Herringbone Necklace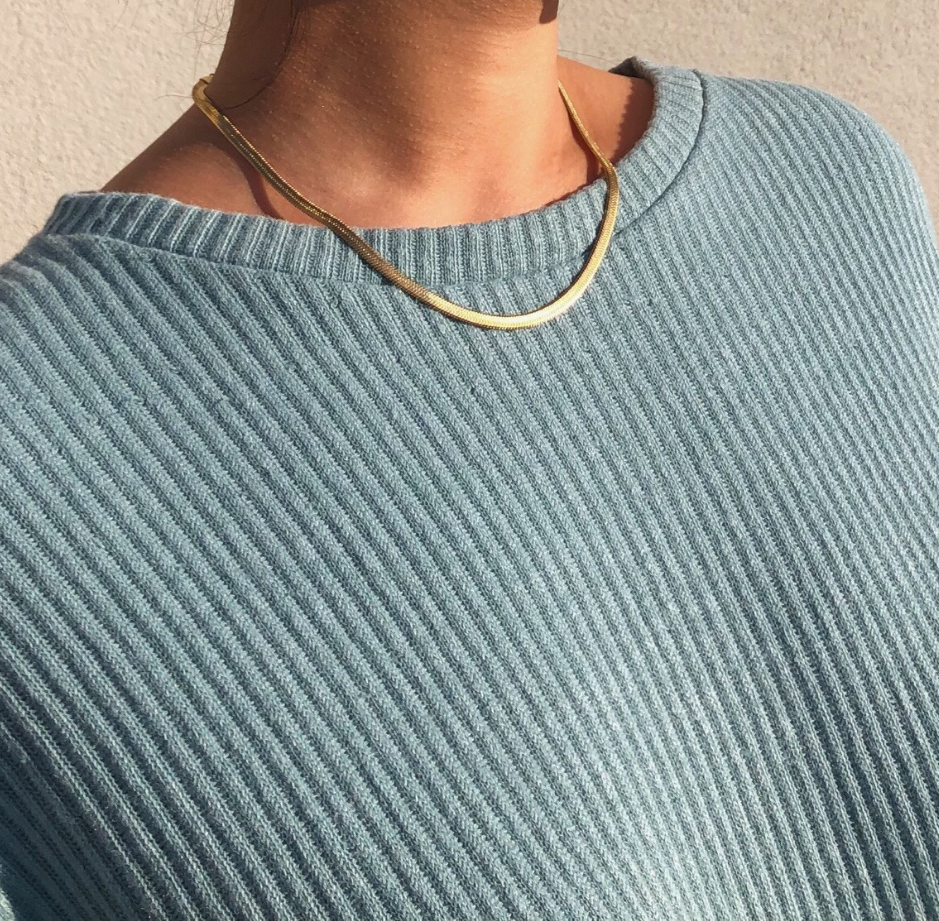 Looking for ways to add a bit of luxe to your everyday looks? Allow us to introduce one of our favourite staple pieces that can elevate any look: the gold herringbone necklace. This dainty gold necklace is perfect for layering or on its own.  
You can make a statement with our bold 8mm Nicole Herringbone necklace, or if you're looking for more of a dainty gold necklace, the 4mm Haley Herringbone is calling your name. Both of these gold herringbone necklaces are ADAE favourites and our lovely #ADAEBABES have rocked them in a variety of ways. From sophisticated, work outfits to trendy, street style aesthetics, we're here to show you 3 ways to elevate any outfit with a gold herringbone necklace. 
Make a Statement as a Street Style Star
It's no secret that the gold herringbone necklace is a must for any street style look. Afterall, trendy celebs like Bella Hadid, Hailey Bieber, and Rihanna are rocking them left, right, and centre. It's the perfect addition to any look where the vibe you're going for is "I just threw this together in a couple of minutes". 
Who says dainty gold necklaces and sweatshirts don't mix? We believe that ADAE Jewelry is for every single day, whether you're heading to work or just to your favourite coffee shop.
We love this chic street style outfit that's completed with a gorgeous ADAE necklace stack. The long gold pendant necklace and gold herringbone necklace add the perfect pop to the neutral turtleneck and black leather jacket. Re-create this look for yourself by checking out
The Nicole Herringbone
and
The Amanda Necklace
. 
Level Up Your Cosy and Casual Fits
We know that some days you are red-carpet ready and some days jeans and a crewneck are the ensemble. We're here to help you figure out how to elevate your comfy and cosy outfits with our gold herringbone necklaces. 
 

A post shared by ADAE Jewelry (@adaejewelry)

 
The Hailey Herringbone is a beautiful dainty gold necklace that looks great on its own on top of any sweater or t-shirt. When you're working with a simple gold herringbone necklace like this, you can really bring your outfit to life with some statement earrings or rings like The Taylor Hoops and The Reni Ring.  
Now just because you're going for simple, doesn't mean you can't rock a bold gold herringbone necklace like The Nicole Herringbone. You can make your necklace the focal point of your outfit and pair it with more subdued rings and earrings. 
Either way, tossing a gold herringbone necklace on top of your favourite sweater really gives it a pop of glam. 
Serve Sophistication With This Dainty Gold Necklace 
As we've mentioned, we want you to be confident rocking ADAE Jewelry every single day. For a lot of our gorgeous ADAE Babes, that means heading to work most days. The gold herringbone necklace is the perfect way to level up your work 'fits so that you feel confident walking into the office. 
Take this sophisticated layered necklace look. The gold jewelry perfectly contrasts the classy white blouse in a way that elevates an otherwise simple look. This chain link necklace and gold herringbone necklace set a beautiful foundation and the long pendant necklace really completes the look. 
You can also go the opposite way and opt for a dainty gold necklace that adds a subtle touch to an already bold, beautiful outfit. This ADAE beauty is rocking a Parisian-inspired look from head to toe and finishes it off with our simple gold herringbone necklace: The Haley Herringbone. Personally, we think she's ready for Paris Fashion Week. 
Rock a Gold Herringbone Necklace Any Day, Any Way
Whatever your OOTD is, we think a dainty gold necklace (such as our gold herringbone necklaces) is always the perfect finishing touch.