How to Layer Necklaces in 5 Easy Steps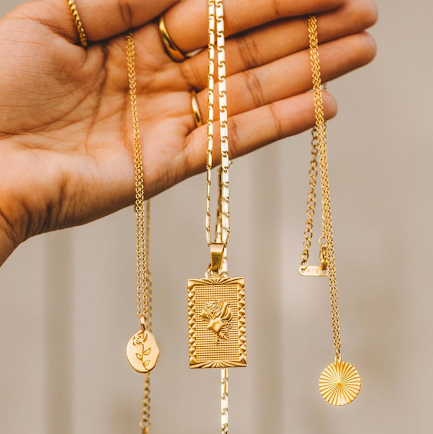 We're here to teach you how to layer necklaces like the babe that you are in just 5 easy steps. 
1. Play with Different Lengths 
If you don't know how to layer necklaces, start by varying your necklace lengths. In order to create that layered look, you need to play with your lengths. You can start with one of our adjustable 14" chains, and then move onto a 16" or 19" necklace. We've also got you covered with our 4" Necklace Extender so you can layer necklaces the way you want. 
2. Mix and Match Styles & Textures 
Layer necklaces of different styles and textures to make your necklace stacks more visually interesting. Don't be afraid to pair dainty gold necklaces with bold chain links to really stand out. 
We love these layered necklaces because the combination of textures are just chef's kiss. We've got the lovely paperclip Oana Link Chain paired with our slinky Nicole Herringbone and our detailed, statement Nicole Necklace. By playing with different styles, the necklace stack is interesting, sophisticated, and beautiful. 
3. Make a Statement 
Some people think less is more but if we're talking about how to layer necklaces, we're strong believers that more is more. Don't be afraid to stand out with a statement necklace (or two). 
One of our top tips for "How to Layer Necklaces 101" is to add a pendant necklace when going for a bold look. The Wanderer Necklace is the perfect example. Not only does this necklace make a visual statement, but with 10% of proceeds going towards The Orphan Project associated with MATW (Muslims Around the World), you can make a social statement as well. Talk about a win-win. 
4. Keep Your Outfit in Mind 
Whenever you start thinking about how to layer necklaces, always remember the outfit that you're working with. If you're going for a simple and dainty necklace layer, then a v-neck blouse would look great. If you want to rock some chains and herringbones for a street style chic aesthetic, then a graphic oversized t-shirt is your BFF. 
We love this look because the layered necklaces perfectly complement the turtleneck and blazer this #ADAEBABE is rocking. This sophisticated, classy look is brought to the next level with the elegant, subtle beauty of the Oana Link Chain and Haley Herringbone necklace layer. 
5. Express Yourself and Have Fun
Always remember–you wear the jewelry, the jewelry doesn't wear you. ADAE Jewelry is meant to emphasize the beauty of the person wearing it. So have fun when you layer necklaces and always remember to be you. 
Each of these gorgeous #ADAEBABES know how to layer necklaces in a way that's true to them and their style. From sweet and simple to bold and beautiful, these layered necklaces make a statement. 
Layer Away Gorgeous 
Now you have all the tips you need to know how to layer necklaces like a pro. Show off your gorgeous layered necklaces by tagging us on Instagram, @ADAEJewelry. We can't wait to see you gorgeous.